Fully furnished apartment in Dubai Marina directly from the owner located only few minutes from the beach in Princess Tower, spectacular sea view. The apartments on 28 floor have 1 bedroom, 1 bathrooms, lounge,  fully equipped kitchen. Furniture meets the high standards.
The United Arab Emirates has once again made a new record. Most recently, in late May 2012 opening of the skyscraper Princess Tower, which was the tallest residential building in the world. Princess Tower skyscraper from now included in the Guinness Book of Records, and presented it as the tallest residential building in the world. 
Residents of Princess Tower have an access to its state of the art facilities like the indoor and outdoor swimming pools, a gymnasium, a childrens play area, sauna rooms, private car park, a luxurious reception area. The top floor will provide gathering and recreational facilities to the residents
.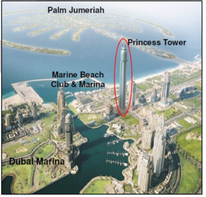 Tower construction began in 2005. Presented skyscraper built a well known company Tameer, which now has developed more than 30 major buildings in the Gulf. This company has received 6 prestigious awards from CNBC for the development of their unique structures.
Princess Tower located in Dubai in the prestigious area of Dubai Marina. From the windows of a skyscraper offering fabulous views of the Arabian Gulf, Palm Jumeirah luxury hotel and a large man-made island Palm Island. Princess Tower - is an elite luxury accommodation. Inside a skyscraper located hotel rooms, penthouses, duplexes, three, two and one-bedroom apartments. Its super design, record height, luxury apartments - that's what the Princess Tower, which is a prime example of architectural innovation in Dubai. Skyline Princess Tower - this is another architectural marvel in Dubai.